This post was sponsored by Visit Bloomington, but all experiences and opinions are my own!
VISIT
Driving into Bloomington, IN is the definition of picture-perfect Fall. Miles before you even get into the City, trees line the road, changing colors to match the season. At 2:00pm on a Friday afternoon, I left work early, made a quick stop home to grab a few necessities, then picked up the girls from daycare. From there, my little gang and I made our way into Bloomington just an hour later.
Bloomington is best known as the home of Indiana University, one of the biggest colleges in Indiana. But, it's more than a college town. It's a hub of local food, art, and talent. Best of all, you can drive here from just about anywhere in the Midwest and be amazed with only 72-hours to explore.
STAY
I definitely recommend finding accommodations around Fountain Square or on Kirkwood Ave, which are pretty much the center of Bloomington. You'll be close enough to so much that you can walk to explore.
We stayed at the Springhill Suites so we were right in the middle of all the action. We also loved the Bloomington hospitality we received during our stay at the Springhill. Breakfast was free, and more importantly, very fresh. The hotel served a lot of great options, which included real eggs, roasted potatoes, fresh fruits, and Chobani yogurt. Diari took a bowl of strawberries from breakfast and ate them throughout the day every day (in that way, she is definitely her mother's child)!
EAT
One thing that surprised me was that Bloomington has a really diverse and delicious food scene. With Thai, Korean, Asian fusion, Italian, Mediterranean, Mexican, Vegan and many other cuisine options, there's something for every preference. Being a foodie, I took full advantage! Some of my favorites:
Not only are the burgers here the bomb, but Bub's is famous for its "Big Ugly Challenge." Basically, if you can eat their ONE POUND burger, you get your picture on the wall with all the other champions. If you know me, you already know to look for me on the wall of champions when you go!
The vibe in Hive is probably one of my favorite things about it. It's a great spot for comfort brunch and breakfast food. Best of all, the staff there is so genuine and kind; they gave Diari a free cinnamon bun!
Social Cantina is a modern spin on Mexican food with great options and a super nice interior! The menu features eleven different taco flavors. Our favorites were the fried avocado, shrimp verde, and the carne asada. Their Cantina Bowls are also a must-try!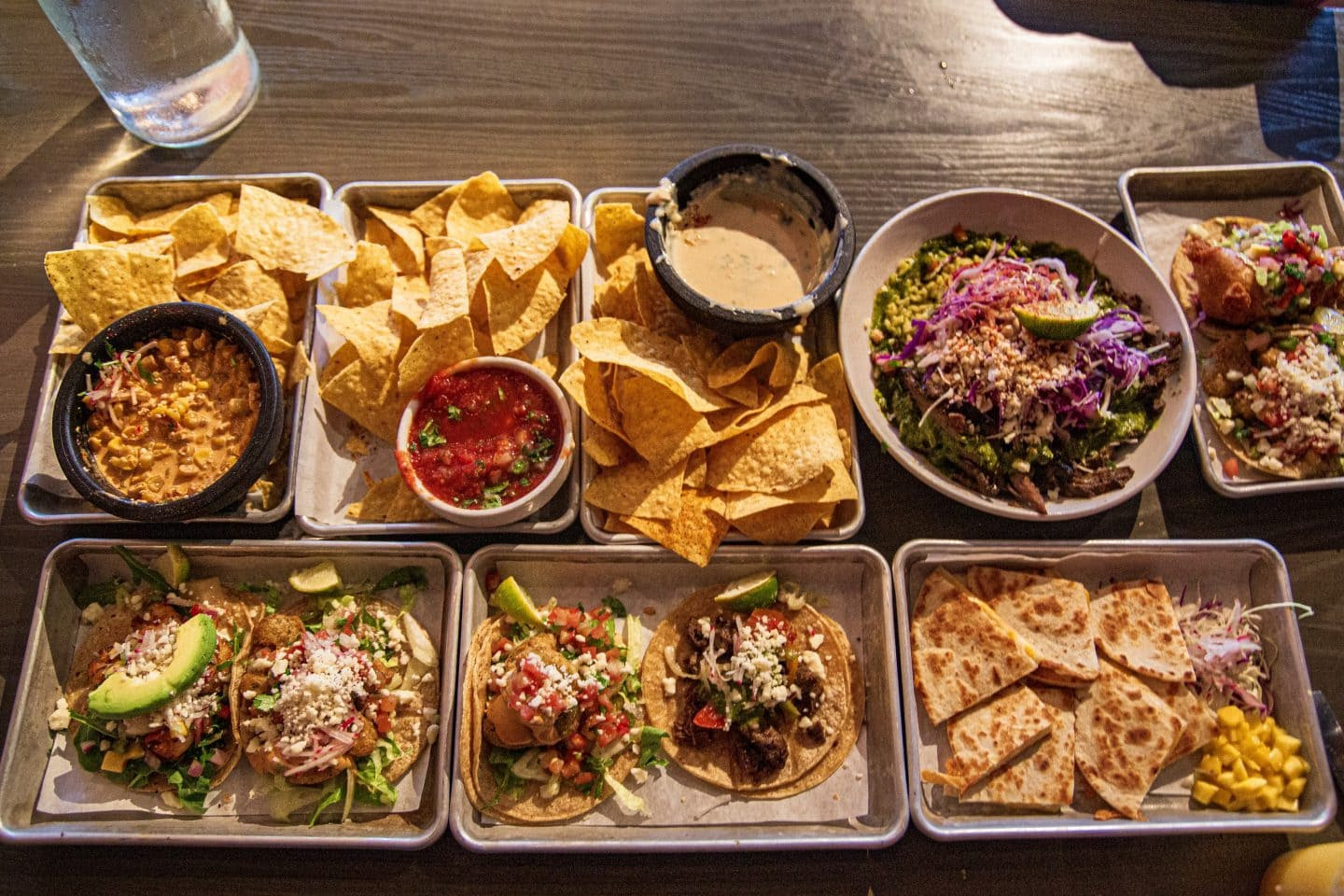 With all vegan-pastries, Rainbow Bakery is a great place to grab a drink and hang out. I ordered a cup of warm apple cider and a cookie for Diari.
Bucceto's surprised me because it definitely caters to its college-student-on-a-budget crowd in terms of price, but the quality of the food is amazing too. I ordered Penne a La Vodka, pizza for Diari, an appetizer, a side and some breadsticks, expecting to pay about $50. Imagine my face when my total was $23.57! This place was so budget-friendly, I forgave myself for the not-so-diet friendly carbs I was about to consume lol.
DO
TIP: Visit Bloomington actually has a great list of trip ideas for every occasion such as "A Learning Day in Bloomington" and "An Inexpensive Day in Bloomington. It helped us to have the "Rainy Day in Bloomington" trip itinerary when the rain canceled our original plans for Saturday.
• Before this trip, I had heard that The Bloomington Farmers Market is amazing! One of the largest in Indiana, it features local vendors from all around the State. Unfortunately, we didn't get to go because it was raining so bad. I'll definitely be coming back though!
• Bloomington is a great place for walking and biking. With all the trails and brick-covered sidewalks, there's no telling where the road will lead you!
KID-FRIENDLY
• While we were in town, we stumbled on an event called Science Fest on campus. It was a great opportunity for kids to play and discover different ways to make science fun. There were robots, activities, animals and so much more. Diari was excited to see the snakes, which is funny because I hate snakes (so definitely not her mother's child in that way). She also got to pet a tortoise while we were there. It was fun to just run into something like that while exploring.
• The number of kid-friendly activities in Bloomington surprised me because I thought it was such a college town. I got to take the girls to a cool place called the WonderLab Museum, which is also a science-themed play place for kids. The best part was that even Fatima got to play! While Diari ran around making bubbles, climbing obstacle courses, and looking at the reptiles, Fatima had fun playing with the building blocks. I have to admit, I had some fun too. My favorite part was the "Pull Your Weight" activity, which is a lot harder than it sounds especially because I did it with Diari, and of course, she was no help!(That's literally what it's like to have kids – a little extra weight in your lap with nothing to contribute lol!)
PLACES TO CAPTURE MEMORIES:
Bloomington is very popular for "Instagramable" spots. Remember how I mentioned picture-perfect? It really is. Between the rows and rows of colorful trees, the red brick buildings, its murals and statues, you'll never run out of a good photo backdrop. Some of my favorite places:
• The People's Park "Bloomington" Mural – FYI, there are a lot of murals around Bloomington, which add to the beauty and the artistic vibe of the town.
• Jordan Hall Greenhouse – You would never expect to run into a greenhouse on the middle of a college campus like this. The Jordan Hall Greenhouse is like an Alice in Wonderland pause from everything going on outside. We took some studio-worthy photos here and even got to explore the different plant rooms.
• The Sample Gates – The Sample Gates are an icon of Indiana University. Visiting Bloomington makes these a must-stop photo location.
OTHER COOL PLACES TO KNOW:
• Record Shops – TD'S CDS AND LPS and Landlocked Music
• Tea Shops – CUP & KETTLE TEA CO.
• Bookstores – Book Corner and Caveat Emptor Used Books
• Thrifting – Bloomington Antique Mall, Vintage Vogue, and Cherry Canary
VISIT BLOOMINGTON
I highly recommend making a trip to Bloomington, IN, especially during the fall months. If there is one place that's perfect to experience the leaves change color, a warm drink in a local cafe, and family fun, it's this little town. I can't believe how close we are to a mini getaway. Bloomington truly makes you feel like you're in a quiet world away from the everyday hustle-and-bustle of home. I know for sure the girls and I will be making a tradition out of visiting Bloomington – and you should too!